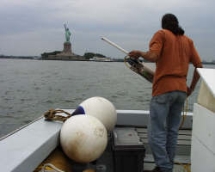 Many careers in Earth and environmental engineering prefer, if not expect, an advanced degree of some sort. However, career opportunities span a wide range of vocations, including technology development, engineering consulting and design, basic and applied research, management, and advocacy. Consequently, the graduate skill set required of an Earth and environmental engineer can vary considerably. To support these various career options, EEE offers a broad set of graduate degrees, each with a different emphasis.
The master of science degree is designed for students who wish to be actively and directly involved with current environmental problems, and contribute innovative ideas towards their resolution. Students are encouraged to specify one of three concentration areas, in order to sharpen their focus within Earth and environmental engineering.
The doctoral degree is intended for students who seek to reach the highest level of knowledge in a specific topic within Earth and environmental engineering, and to advance this knowledge through basic and/or applied research. The expertise and experience that is gained will be highly valued across multiple professions and will enable students to play a leading role in solving the major environmental problems faced by society.
Incoming students: View the 2016 New Student Orientation Guide